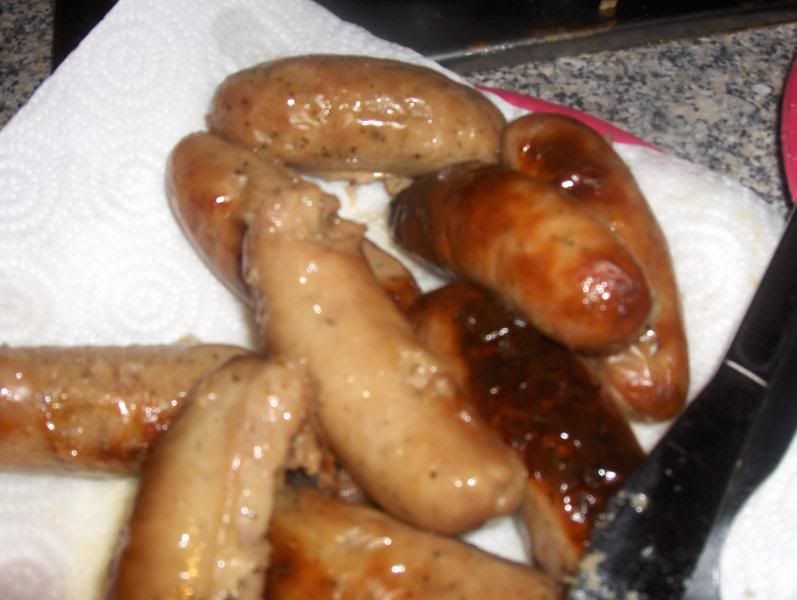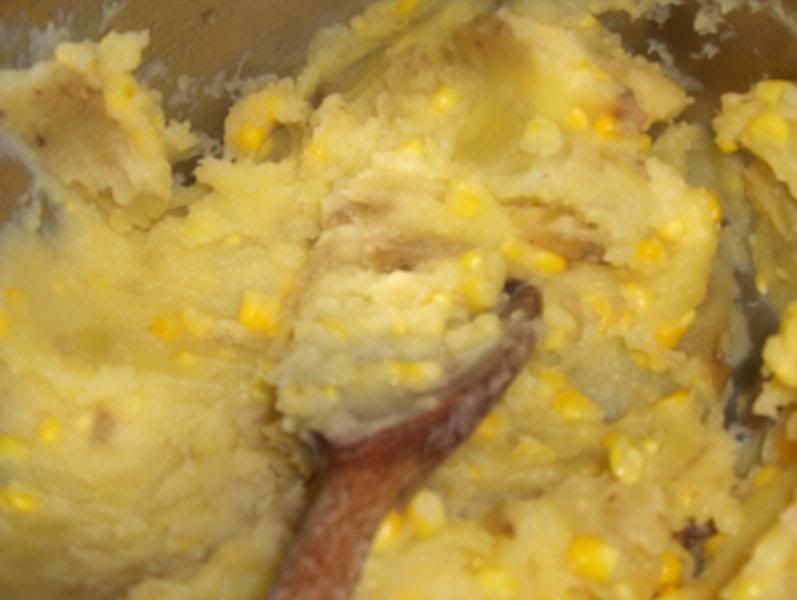 That's right. Bangers and mash! The husband bought some Cumberland sausages for dinner tonight, and they were delicious. The mashed potatoes had some sweetcorn thrown in for added interest, and they, too were good eating.
I really enjoy British food. The thick, stodgy pastry on a good meat pie; the sizzling, greasy sausages; the classic roast dinners; the bread and butter pudding; the custard slathered over everything.
British food is about stuff that sticks to your gut and keeps you warm. You need food like this, especially during the cold, dark and wet winters around here. It not only feeds the body, but it also tastes so good and is very "homey" type food that people sit around the table to eat.
As much as I enjoy British cuisine, I think my absolute favourite type of food is Italian. If I had my way, we would eat pasta two or three times a week. I try to limit it to once a week, because I don't want everyone else to get bored with my meals, but I just love garlicky tomato sauce with a bit of cheese on the top, or a gorgeous lasagna with a side of garlic bread and salad. (Um, I like garlic. Surprising, I know.) Pizza is
okay
, but I don't really see that as proper Italian food. That is more of a lazy dinner night, either bought in or pulled from the freezer.
There is this fabulous Italian restaurant in my town. We usually go there once a year, for my birthday meal. We don't go out to eat much, so this restaurant is kept as a Very Special Treat. I look forward to it all year, and I have never been disappointed. (Unlike that French place we went to a few years ago, when the fish came to the table with its head still on and its beady little eye staring up at me in supplication. I am still scarred by that incident.)
More than anything, however, I wish that there were more child-friendly restaurants around here. There are a few laid-back pubs that I know of, but you can only have dinner in so many pubs before it all looks the same. My children won't eat anything from McD's or BK, happily, so those kinds of places are out. I would love to expose them to more variations in food (because my skills and desire to make extravagant meals are pretty low), but for the time being we are left with baked chicken, tuna casserole, or spaghetti. Tasty in their own way, but nothing special or fancy.
Ah, who am I kidding -- anything special or fancy just gets thrown to the floor anyway. It's like some sort of inverse mathematical law: the longer I take preparing a meal, the faster it hits the floor when presented to my children. Slap some peanut butter and jam on two slices of bread? They will ask for thirds.
Fancy eating is not on the cards for this family. I guess we'll just stick to our bangers and mash until the kids get a bit older.