I just survived my son's fourth birthday party, and it was a big success. I thought I'd share a few tips and explain what I did, so other people can get ideas.
Because Spider-Man is red and blue, I just bought a lot of decorations in those colours -- streamers, balloons, plates, napkins and cutlery. I bought Spider-Man themed cups, party bags, masks and a banner. The banner will be moved to Middle Child's room so he can admire it the whole year round. Doing it this way saved a lot of money on branded party-ware, but still kept to the theme and everything looked quite nice.
The party itself was held in our home, and 11 children under the age of 6 were in attendance. Luckily, the mothers of the children stayed, so that helped me in executing the games.
While we were waiting for everyone to arrive, I put out colouring pages (printed from the net) of Spider-Man for the kids to colour. They were all very interested in this, and I had a hard time getting them ready for the games!
Once I sat them down, I told them, "This is not a party. This is a super hero training camp, and you are here to learn how to be super heroes just like Spider-Man. You need to be strong, brave, and you need to prove it! You will be tested and those of you who win will get to wear THIS mask!" (a paper spider-man mask was modeled by me)
We played follow the leader, tiptoeing around the room in a line, because super heroes need to be quiet to sneak up on the bad guys.
Next up was "pin the spider on the web", wherein the children exercised their "spidey sense" and proved who was the most dexterous.
We also played pass the parcel, and each layer had either a sticker prize or a forfeit; little notes with tasks to prove your bravery or strength as a super hero. These included jumping on one foot, running around the room while clucking like a chicken, and singing a song in front of everyone. I probably should have used more forfeits, because the kids loved doing them!
The last game before graduating to super heroes was a spider hunt. I hid little spider pictures around the room and the kids had to find them all. This was to prove that they can find bad guys that are even hiding.
After they received their masks and were all congratulated on their super hero status, I gave them a few light-weight plastic balls each, and told them to fight the bad guy in the room wearing a red shirt. (My husband...) They all pelted each other with balls while I sorted out the food, and had a blast.
I spread a blanket on the floor and the kids ate their party food picnic-style. They had sausages, sandwiches cut into different shapes (jam, ham, and cheese with marmite), pineapples, chicken ball thingies, assorted cracker shapes, yogurt in tubes ("Frubes"), and juice.
The cake was banana loaf, covered in lemon curd and then red icing. Marzipan type stuff? I don't know what it's called - the kind that you roll out. I made it myself, and tried to make a spiderweb on top, but it isn't particularly good. Middle Child loved it though, and when I put his Spider-Man toy on top, he thought it was wonderful.
Party bags included pipe-cleaner spiders (made by me), ring bubble pots, paper & markers, stickers and a small rubber animal. Mostly frogs, because those were all I had in the bag-o-animals.
The party went on for about 20 minutes too long -- we opted to show an episode of the 90s cartoon version of Spider-Man, and the kids were antsy. They could have easily left before then and been happy, but you live and learn with this party stuff. They all thoroughly enjoyed themselves, so that's the main thing. Middle Child was very happy, as evidenced by this photograph: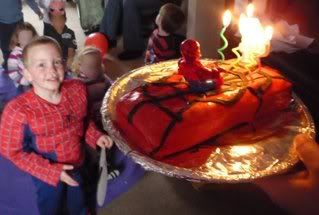 Whew. Over for another year. Except that Eldest Child's birthday is in six months. Ack!