So the project I've been dying to write about can finally be revealed! I made two table runners, inspired by
this tutorial
over at p.s. i quilt, as Mother's Day gifts for my own mom and my MIL.
I had
so much fun
making these runners. The fabric was mostly from one of Moda's charm packs (sadly I didn't write down which pack it was!) and some of my own scrap fabrics. I miscalculated quite severely when I bought the pack, thinking that the table runners would be small enough to be covered by one pack for the both of them, and then discovered a few days later that I would either need to buy another pack or make up the shortage with my own fabrics. Since I bought the one and only charm pack of that kind at my local quilting shop, I was kind of stuck!
The two table runners have very different colour schemes as a result; my mom's is full of pales blues and creams, while my MIL's is full of bright(ish) pinks, browns and golds. I personally prefer the blue version, but other people have complimented me on the pinky one, so I'm happy enough. :)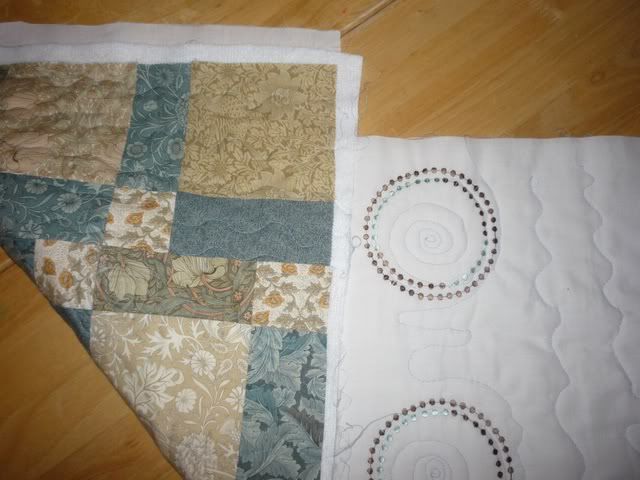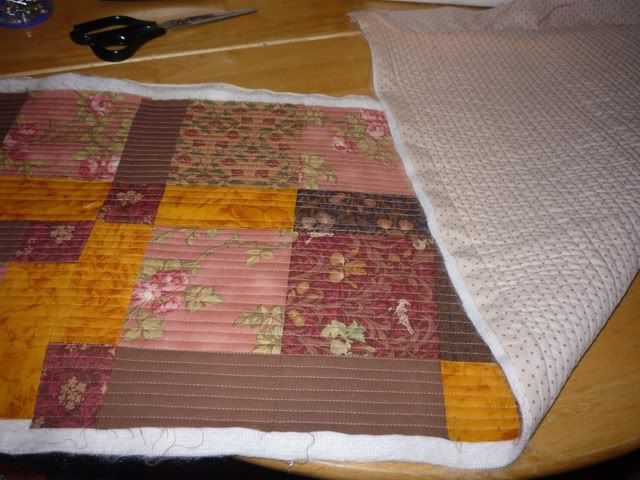 These pictures also show my attempts at machine quilting. The top one was done "free style" but I don't actually have the proper machine foot for the job. I simply lowered the feed dogs, removed my normal machine foot and went for it. Eeep! The lines and curves are wonky in places, but eh. It's for my momma, and she said she likes it. ;) The nice looking circles were already on the fabric before I bought it, so even though it makes me look wicked talented, I can't claim ownership of that little detail. I went for straight(ish) quilting lines on the other table runner, and although I did like that method, I think the lines are too close together for such a small piece. If I had to do it over, I would sew the lines twice as far apart.
This project was a lot of firsts for me -- first time doing a disappearing 9 patch (LOVE IT), first time machine quilting (well, not actually the
very
first time, but the first time doing it
right
-- more on that another time), and the first time I managed to bind a quilt and use a disappearing stitch on the other side.
These pictures are just horrible, because I took them at night after I finished them (when will I ever learn?), but you can kinda-sorta see the binding:
I used fabric I already owned for the binding, and I'm not too sure about the colour combo for my MIL's, but again, too late now!
Mother's Day is on Sunday, and they received these in the post yesterday or perhaps even the day before. I am really proud of myself for making these in the first place, but also sending them well before the date!
Someday I'll be brave enough to machine quilt a full sized quilt, but I'll probably have to invest in a proper machine foot for the job. As for now, I'm going to stick with the sew-and-turn method of quilt making with a fleece backing....