Our home isn't big enough for a full room just for my sewing (someday!), so I have to do with a sewing corner. It was adding unneeded clutter everywhere, and everyone was getting frustrated with my stuff getting in the way:
There is also the added component of rubbish and junk littering the sewing corner as well. We have a difficult time making it out the front door to throw things out, apparently.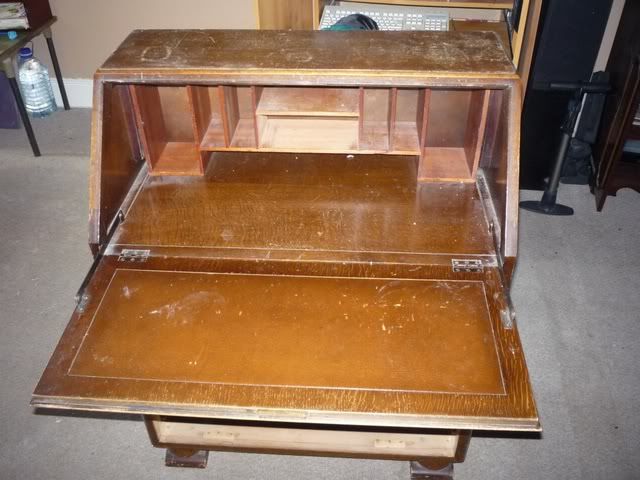 I had this writing desk in my bedroom, which had become more of a random-stuff-repository rather than an actual writing desk, so I thought it would be good to turn it into a sewing desk! I love all the little compartments inside, and even though my machine doesn't fit into it with the front closed, I can still tidy everything away in the drawers and leave the sewing machine on top or on the floor next to it. With everything else put away, it doesn't take up nearly as much room.
I impulsively decided to paint it. Normally I love the look of dark wood furniture, but with Spring on its way, I was desperate for a bit of light in the front room. The dark wood was just too dark for what I wanted, so I splashed a bit of paint on there. It is meant to look unfinished, but my husband doesn't care for it. :) We might get a green wood stain to rub into the top, but at the moment I'm happy enough.
There is still more clutter to be cleared away, as usual, but it works very well as a sewing desk so far! I will have to move the sewing machine to the table to work on larger projects, but that's not a huge hardship. I'm saving a lot of space this way, and my sewing supplies are nicely organised. I'm happy.