I'm finished sewing baby things for my friends who are due with their own babies a few weeks after me! I was going to make some stuffed, stackable fabric boxes, but I've lost a lot of steam for fiddly sewing jobs recently (can't imagine why!), so that project is on hold for now.
However, I did do some experimental sewing of the baby wrap blanket variety. I really like to swaddle my babies when they are small, but never bought any special swaddling blankets that are out there. I was taught how to swaddle my babies with a normal blanket by the midwives at the hospital where I've had all 3 of my children, and their methods work fine for me. However, I thought it would be fun to sew a special swaddling blanket for my friends, just to see if I could. I poked around on the net for ideas, and with a rough plan, sort of made things up as I went along. The design of the blanket has some flaws, but I think overall it could work well for the baby who enjoys being wrapped tightly.
Materials Used:
-- fleece baby blankets
-- sheet fabric for lining
-- sew-on velcro
Total Cost of Blankets: About £4 each, probably less.
I made two blankets, one pink plaid and white, and one plain blue and brown.
Pink back:
Pink front: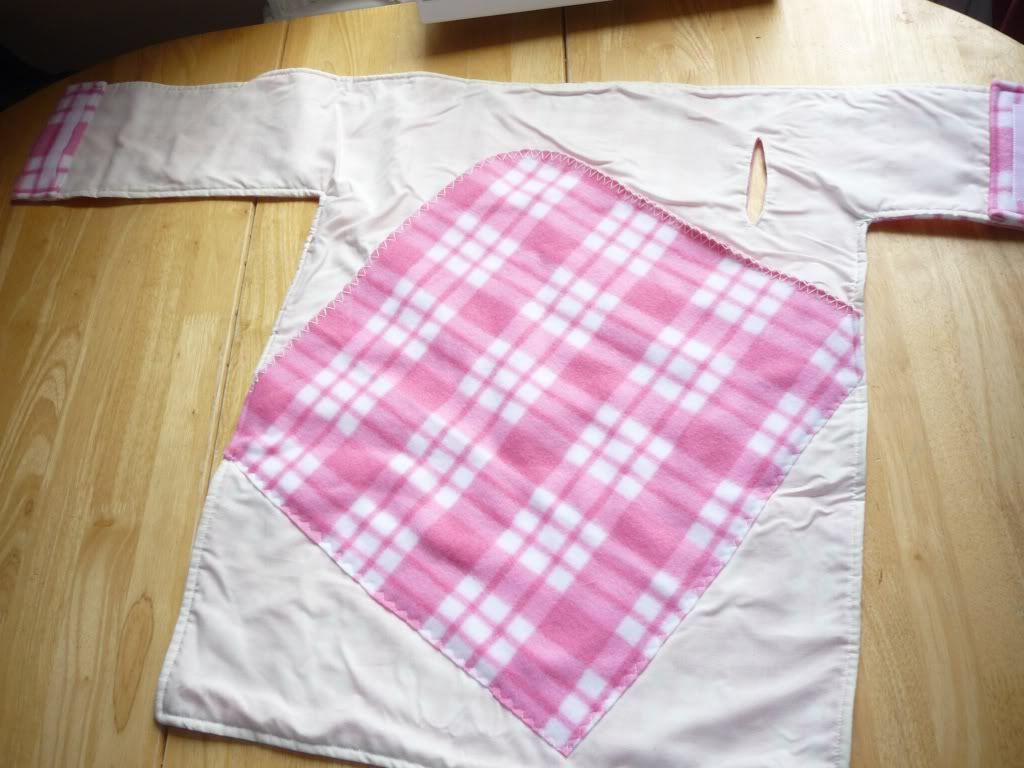 I wouldn't dare attempt a tutorial on these blankets, since the design changed so much just between blanket #1 (pink) and blanket #2 (blue) in my attempts to make it better. I still can't sew that slot for the long arm of the blanket without leaving frayed edges behind (grr)! However, for those of you interested in seeing pictures of the blanket "in action" as it were, I've created a little step-by-step account of how to use it, with my daughter's doll in place of a live baby (currently far too happy inside to make an appearance). Feel free to copy my design and better it to your heart's content. If you do, let me know! I'd love to see what you come up with....
------------------------------------------------------------------------------------

Step One: Place baby inside blanket "pocket."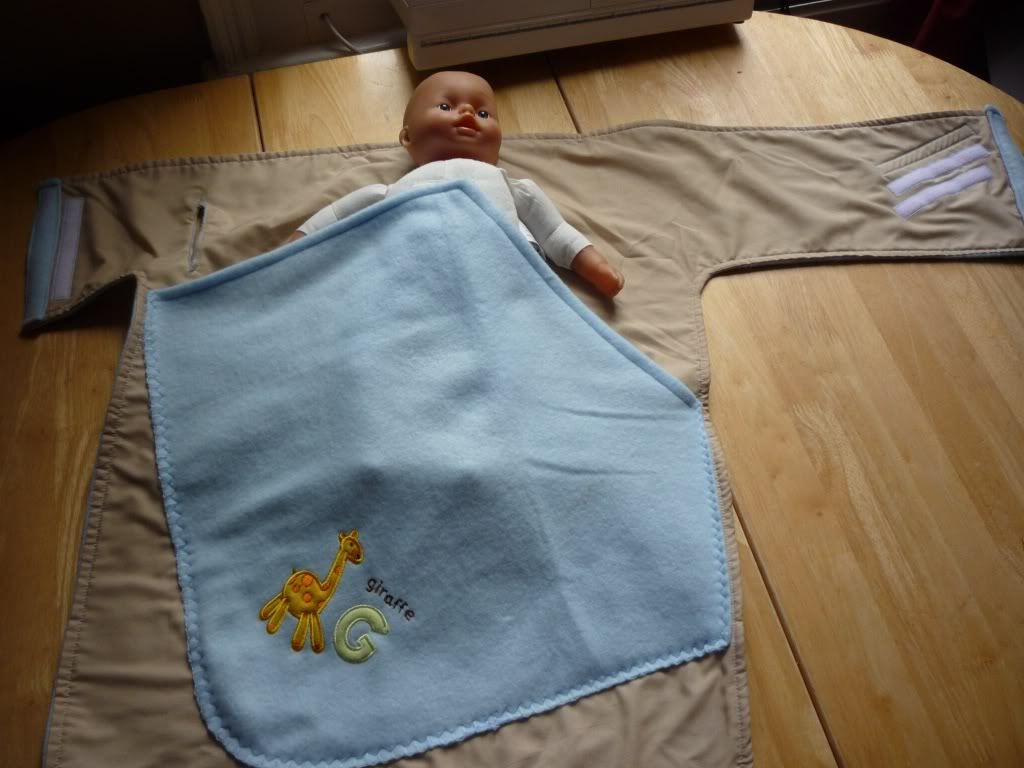 Step Two: Fold over long arm of blanket, across baby's body.

Step Three: Insert long arm of blanket through the slot.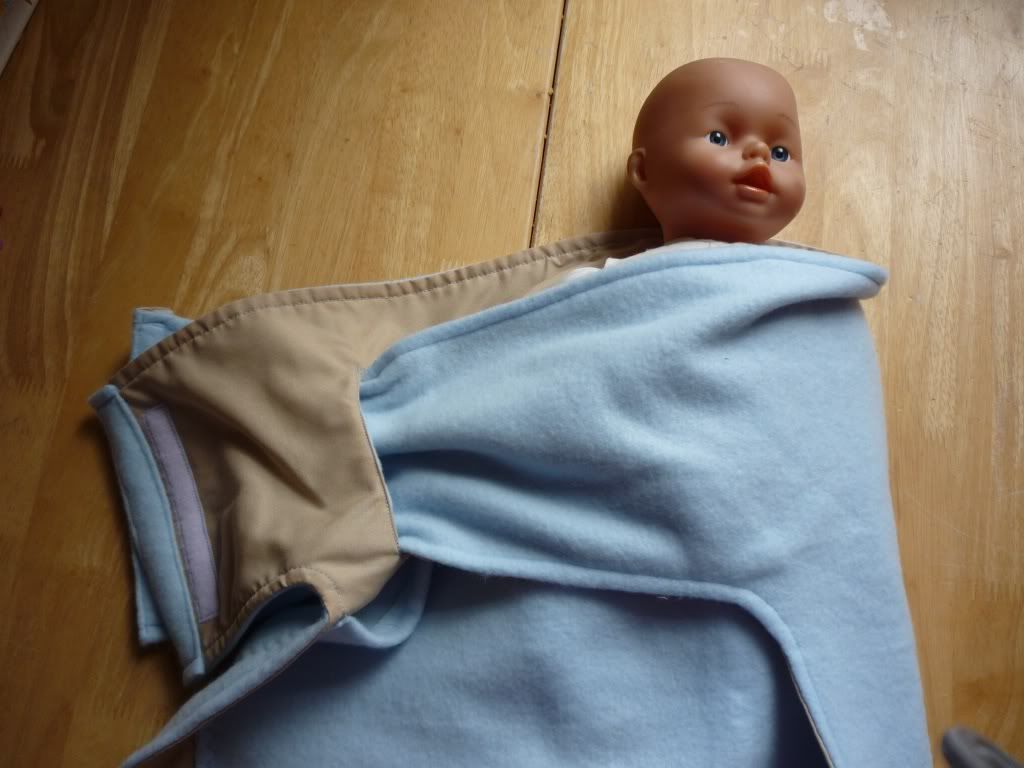 Step Four: Turn baby over to see the back of the blanket.
Disclaimer: Do Not Place Baby Face Down On A Table As Shown;
This Is Only A Doll Used For Demonstration Purposes!
;)
Step Five: Wrap long arm tightly around baby's body,
securing at the back of the blanket via the velcro fastenings.

Step Six: Pull short arm of blanket tightly across baby's body.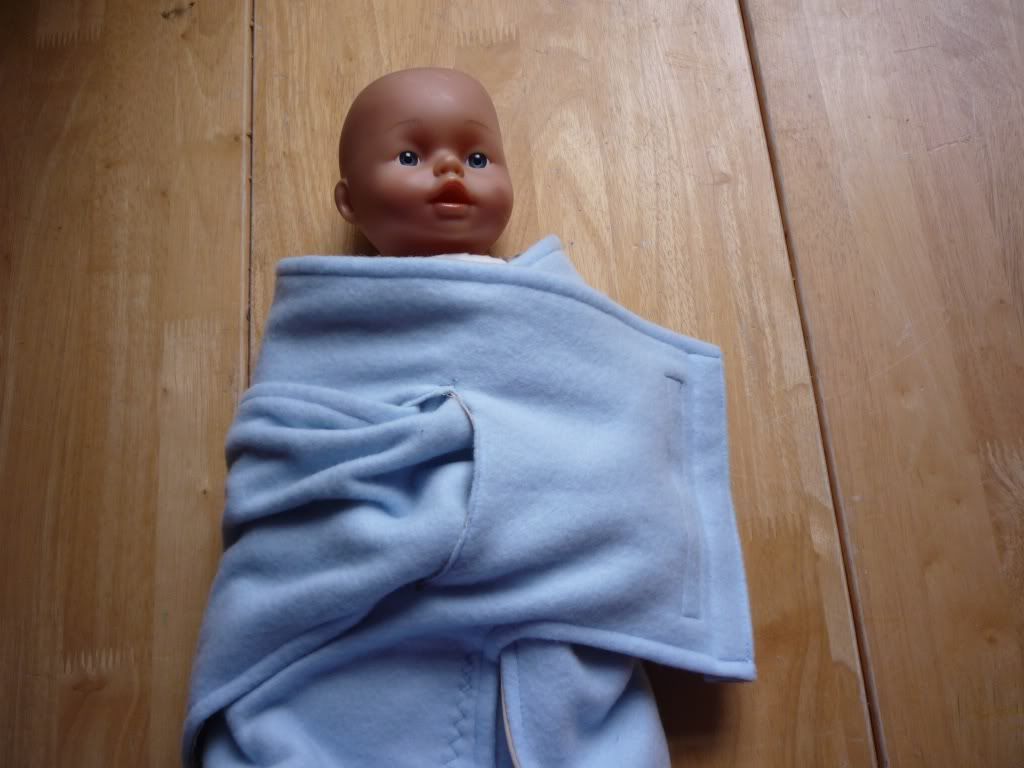 Step Seven: Locate velcro fastenings for the short arm of the blanket at the back.

Step Eight: Secure short arm of blanket.

Step Nine: Turn baby over again!

Step Ten: Tuck the bottom part of the blanket under the folded
arms of the blanket to secure baby's legs within the wrapping.