For those of you who haven't read this blog recently, and my constant
complaining
yammering about being 9 months pregnant, well! My official due date is tomorrow. I have three older children, who are absolutely dying with anticipation for this baby to be born (the youngest, aged 3.5, has informed me that it is taking AGES for the baby to come). I like the idea of them getting a little gift in celebration of their new position in the family, which is one of the main reasons why I started quilting this year in the first place. I wanted to finish my eldest daughter's quilt, of course, but I wanted each child to have his/her own quilt as well. They are safely stored away at the moment, ready to be used the moment the baby makes her appearance.
Quilts are nice, but I wanted something that they could also appreciate in the here and now, and not just in the future when they realise how much work goes into quilting! (yes, I'm absolutely certain that my children will soon begin to appreciate my efforts in life... I live in a world of sunshine and roses, I do!)
When I came across
this tutorial
over at
Moda Home Mom
, I knew I had hit the jackpot. I had all the necessary supplies in my sewing desk, and she made it look super easy, which: BONUS.
Last week, I gave it a go, and it turned out thusly: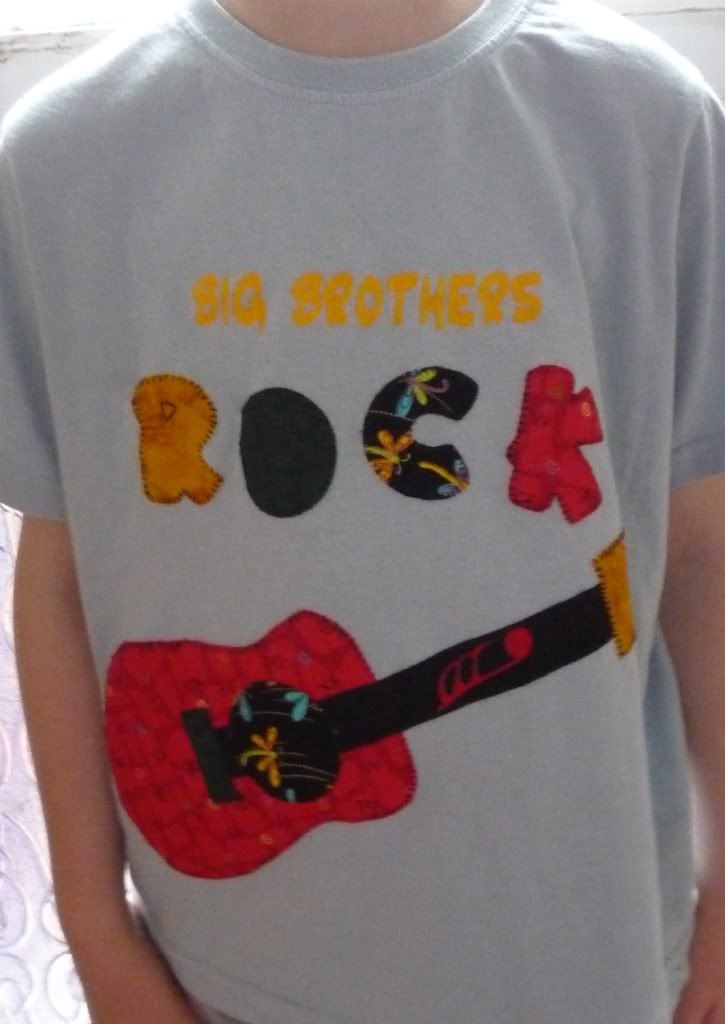 Unfortunately, the picture is a bit blurry, but you get the general idea. Cuteness! A cool t-shirt for a cool big brother! I was very happy.
However, I have two older girls, as well. They needed something to celebrate being big sisters, so I tried to make a girlie version for them. This is how I did it.
1. First of all, have a look at this
link to the Big Sisters Rule template.
The bubble lettering has shadows around it; I just cut that away for tracing purposes. Also, I made the bottom edge of the crown a bit wonky, to give it a more organic feel. There were too many straight lines for my taste, but if you want to have a straight-edged crown, more power to you! :)
2. Supplies needed:
4 different types of fabric
. For my younger daughter's t-shirt, I used Strawberry Shortcake fabrics. So cute! For my older daughter's tee, I used two fabrics from the Hope Valley range of fabrics that
I won in a giveaway
recently (woot! Still super happy about that one) and two fabrics from my stash, because I'm greedy like that and didn't want to use up *too* much of my Hope Valley stuff! Also pictured,
the template and some light-weight iron-on webbing.
Not pictured:
a t-shirt, paper scissors, fabric scissors, sewing machine, coordinating thread, iron and ironing board.
All of these will be necessary. Also not pictured,
freezer paper, craft knife (and suitable cutting surface), fabric paints and brush.
Moda Home Mom's tutorial included ready-made iron-on letters from an American craft store. I don't know where to buy such things, so I printed out "BIG SISTERS" in a font I liked and cut them out into freezer paper to paint directly onto the t-shirts. I made a
tutorial about this recently
, if you want to have a quick look.
3. Cut out the images and letters from the template. Trace onto the webbing. Be sure that you follow the instructions for the webbing exactly, particularly with regards to lettering; if the images come out back to front, it's not an issue, but you don't want the letters to come out backwards!
Here is all the fabric, ready to be ironed onto the t-shirt. Whew, the letters came out the right way!
4. Again following the webbing instructions, iron on the fabric pieces where you want them to go.
Both girls' t-shirts, post ironing:
5. This is where my other freezer paper tutorial comes in. I painted the words "BIG SISTERS" on the top of the t-shirt, using freezer paper as a stencil.
Let dry overnight, if possible.
6. Finishing off! Although the fabric pieces are nicely ironed and stuck to the t-shirt, they won't stay that way forever. It's important to stitch around the edges to ensure longevity. Hopefully, your little one will enjoy wearing this so much, that it will get many, many washings!
I stitched around the Strawberry Shortcake tee with a light green thread. My 3 year old loves green and pink, and I think they go well together, myself.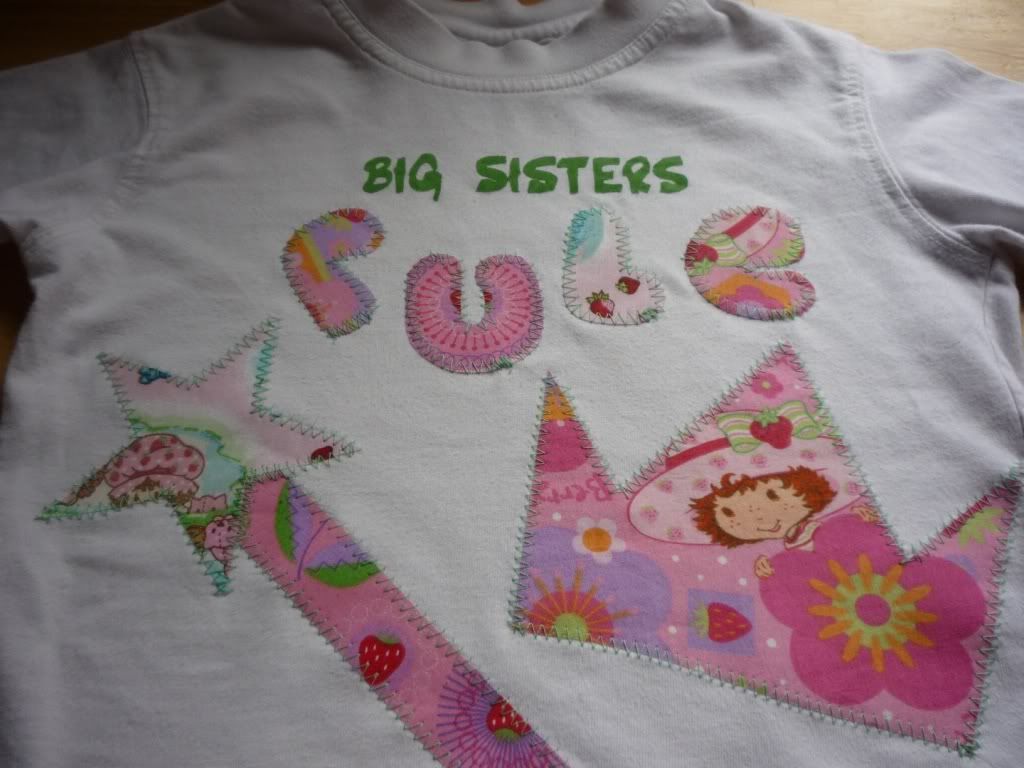 I didn't use such a contrasting colour with my older daughter's t-shirt, but I didn't think the pink needed as much toning down as with the Strawberry Shortcake fabrics. It's a much more grown-up colour scheme.
And here they are, one big happy family, anxiously awaiting the arrival of their new sibling! The t-shirts are safely stored away until the baby comes. Just a little something special to mark the big changes in store for our little family.
I hope this tutorial is clear enough for you. Do have a look at Moda Home Mom's tutorial for the boy's t-shirt, which is probably much easier to read and understand! I am very grateful for her efforts, which helped me produce not only a great t-shirt for my son, but gave me the inspiration for my own girls' tees.
Now we're all ready for the baby to arrive. Patiently waiting, little one... patiently waiting!