I've been thinking about my blog lately, because I feel regretful over not writing regularly, and also because I struggle to keep a theme going with my blogging. In the beginning, it was just a collection of random thoughts that I managed to blog about from time to time. It veered into parenting and baby stories frequently, with recipes or movie reviews sprinkled in.
Last year, it became a quilting blog, because I was desperate to finish making quilts for my children before the fourth child was born. I obsessively read through other quilting blogs, used their tutorials and entered contests, learned as much as I could, and documented the process here. More or less, anyway! I complained about being pregnant occasionally and annonced the birth of my sweet little baby.
And now, here I am, contemplating what incarnation my blog will take on during this current phase of my life. I consider myself a creative person, but more of a dabbler than a specialist. There are quilters out there that do amazing, awe-inspiring work, but I am content to say that I will probably never be one of them. I do well enough, I learned enough to make a decent quilt that will last for a long time, but I rarely get the chance to do sewing any more, and quilting is just out of the question for the most part.
That's not to say I don't do creative things at all these days. I am slowly chipping away at my hexagons, and have introduced my daughter into the obsession (which is so fun!), but I've also come into the hobby of needle felting, sewn a few things for my kids, and am trying to get back into freelance writing, which is very exciting.
Needle felting is the art of making objects out of dyed wool with a barbed needle.
This mother and baby set is made in the Waldorf doll style, and the baby is just resting in Mother's arms so can be repositioned if needed. (This is for sale in my Etsy shop, in actual fact.)
My kids are really into Super Mario Bros, so I made a felted Mario for my son,
and a felted Princess Peach for one of the girls.
I'm in the process of making some miniature fairy felted dolls for them, to live in a fairy house that is under construction along with some miniature food that I bought on eBay. I used to adore miniatures when I was a child, and the children are really in love with the idea of a tiny fairy world at the moment. Hopefully my fairy dolls will be up to snuff, because the kids weren't particularly enamoured with Princess Peach. Ungrateful swine! :)
My daughter was recently baptised, so I made her a white dress for the special day:
front
back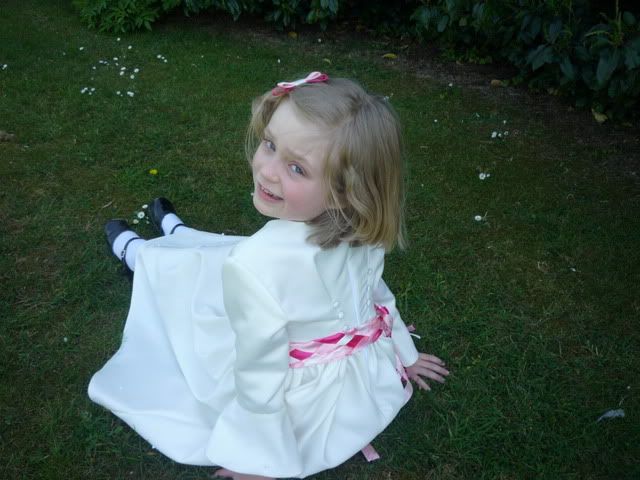 slightly awkward pose (that's my fault for pretending to be a real photographer)
The dress is made from my wedding dress. Many people have gasped in horror when I say that, but I don't ever plan on wearing it again, so why not? I'm 100% confident that my daughters will think that the dress is hideously out of fashion in 20 years when they want to get married, and I'm not willing to hang onto it for 50 years just in case a future grand-daughter might want it. I did save the bodice to the dress, because someone might want to work it into a dress design someday. That way they have a piece of the dress, but can make it into something that fits in with current fashions.
I'm happy with how the baptism dress turned out. The plan is for each of my daughters to wear it, but with a different sash reflecting their favourite colour/s. The sash was woven from several widths and colours of double-sided satin ribbon. It was just tied around her waist.
I grossly over-estimated the size of the bodice of the dress, so those pleats you see in the back are there out of necessity; I made it far too big and could only take it in on the sides so much. I'm just glad I had those covered buttons to hand so the pleats were dressed up a bit and look planned. The sleeves are cut down versions of my exact sleeves of my wedding dress.
See?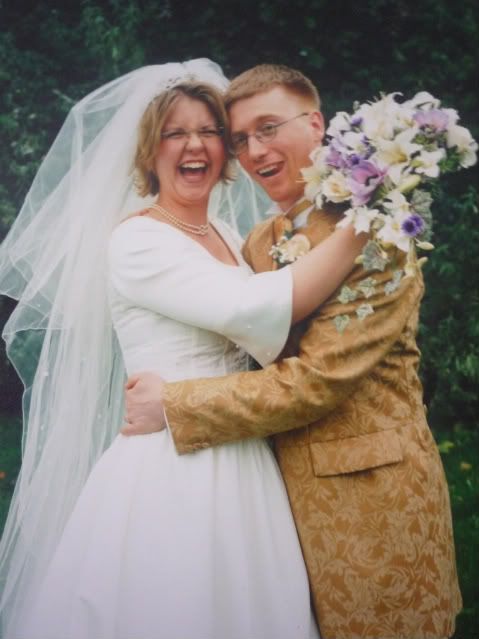 I gotta say, I absolutely love both dresses (my wedding dress, the daughter's baptism dress). I especially love that 4 people will be able to wear it now (I have 3 daughters), and I'm hoping that my grand-daughters will be able to wear it to their baptisms, too.
--------------
As far as regular sewing goes, I'm hoping to set up a sewing area in my attic. I originally intended to use a corner in a downstairs room, but I don't like having my things in an easy-for-kids-to-access location. For a while, I was using my bedroom, but the table ended up as a dumping ground for all sorts of detritous. My goal now is to use the attic. It isn't furnished or anything, but there is plenty of space up there for shelves, a table, extra lighting and maybe even a design wall! I have this little fantasy of pottering around up there in the evenings while the kids snooze below me and my husband plays his computer games in peace. I love the idea of being able to stop mid-way through a project and
not have to pack it away
in the interim. Bliss!
I've also become a convert to standing and sewing. I didn't have a chair in my room for sewing my daughter's dress, so I emptied a toy box, turned it over and put my sewing machine on top. It's a perfect height for standing, so that's what I do. I really prefer it, because my back and neck don't bother me after sewing for long periods and it's easy for my to move over to the ironing board and back again. At the risk of sounding incredibly lazy, I hated getting up and sitting down between every ironing session! After the first time of standing for 2+ hours sewing one night, my leg muscles felt pretty achy, but the next day I was fine. So when I get my sewing area set up in the attic, it won't include a chair at all!